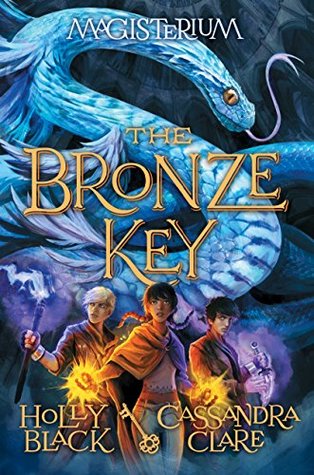 Title:
The Bronze Key
Author:
Holly Black and Cassandra Clare
Publisher:
Scholastic
Publication date:
August 30, 2016
Pages:
256
Source/format:
Library//Hardcover
Rating:
☆☆☆
☆
☆
Synopsis (from goodreads.com):

Magic can save you.
Magic can kill you.

Students at the Magisterium are supposed to be safe. Under the watchful eyes of the mages, they are taught to use magic to bring order to a chaotic world.

But now the chaos is fighting back. Call, Tamara, and Aaron should be worrying about things like pop quizzes and magic contests. Instead, after the shocking death of one of their classmates, they must track down a sinister killer… and risk their own lives in the process.

As Call, Tamara, and Aaron discover, magic can only be as good as the person who wields it. In evil hands, it has the capacity to do immeasurable harm, unless it is stopped in time.

In this striking third book of Magisterium, bestselling authors Holly Black and Cassandra Clare present us with a school where anything, good or evil, can happen, and the only way to unlock the truth is to risk everything to find it.
M Y T H O U G H T S
"One of you will fail. One of you will die. And one of you is already dead." - Prophecy from The Bronze Key
The Bronze Key
is the third book in the Magisterium series and so far is my absolute favorite installment. It's the turning point of the series and it doesn't disappoint. The pacing of the book is good. Readers join third years Call, Aaron and Tamara on a journey to discover who the Magisterium spy is and to learn so much about other people's intentions. Holly Black and Cassandra Clare definitely keeps my mind open to all possibilities.
Black and Clare have created a story where magic and friendship collide. Trust and loyalty are hard to come by at the Magisterium especially since the Magisterium is no longer safe. One cannot even guarantee to feel comfortable in their own room without being ambushed. So who is hunting Call, Aaron and Tamara?
Call, Aaron and Tamara have to work with Jasper (the frenemy), much to their dismay, but it's the only way to keep their secret. But they're not the only ones who harbor a secret. The twists and turns in
The Bronze Key
caught me by surprise. Never rule anything out. That ending is still looming in my head! It's the perfect cliffhanger; Black and Clare nailed it! I had to re-read the last couple chapters just to let the ending soak in! I cannot wait for the next fourth installment,
The Silver Mask
, to find out more.